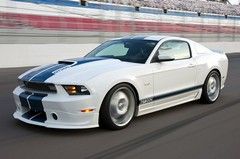 Shelby has revealed an all-new GT350 Mustang on the eve of the 45th anniversary of the unveiling of the original version.
The new car is based on the '2011' model-year Mustang's new 5.0-litre V8 range-topper, although the addition of a supercharger brings power to around 500hp, up from 412hp.
As well as the supercharger, the GT350 gets bigger brakes all-round from Baer, and Ford Racing springs, struts, sway bars and adjustable castor/camber plates. A Borla exhaust is also fitted, and wheels by Cragar.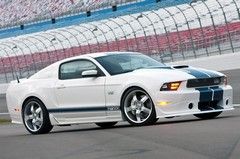 The GT350 gets treated to a visual spruce-up, with a new front bumper, splitter, a bonnet scoop and a central exhaust among the key changes. White with Guardsman Blue racing stripes will be the only colour combination.
Unlike the GT500, which is available direct from Ford, the GT350 is a retro-fit affair.
Rather awkwardly, adding the price of the conversion ($33,995 or roughly £21k) and a base car makes the GT350 more expensive than the GT500, which gets a 540bhp 5.4-litre supercharged motor.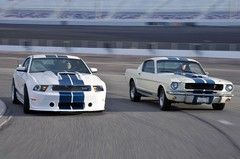 Still, we're sure there are punters out there who will want such an evocative nameplate on their drive.
After all, the GT350 badge is pretty historic. "In 1964, Ford Motor Company asked Shelby American to turn their secretary's car into a race winner to help them sell Mustangs," says Carroll Shelby, founder of Shelby American. "Our Shelby GT350 ruled its class at the track and was feared by GM and Chrysler owners on the street. Enthusiasts have anticipated the GT350's return since it went out of production in 1970. Now my band of hot rodders has created a car worthy of the name."