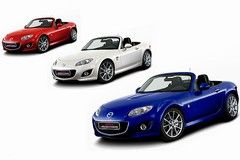 Mostly cosmetic tweaks for limited-run MX-5
A limited-edition Mazda MX-5, celebrating two decades of the iconic roadster's production, will be launched at the Geneva motor show next month.
The imaginatively named Mazda MX-5 20th Anniversary Limited Edition is intended to focus on the simple driving pleasures of open-top motoring, and so uses the 124bhp 1.8-litre entry-level motor rather than the 158bhp 2.0-litre engine.
Performance won't be electrifying, then - the MX-5 takes 9.9secs to reach 62mph and is all done at 121mph.
To make up for the relative lack of performance, Mazda is throwing plenty of bits and bobs at the 2000-example run. This mostly includes cosmetic tweaks such as unique 17-inch alloys, a sprinkling of '20th Anniversary' logos and chrome for the grille, door handles and headlamp surrounds.
Each model also gets a special edition scuff plate in stainless steel with its unique serial number (from 1 to 2000), and buyers can choose from 'True Red', 'Crystal White Pearl' and a new 'Aurora Blue'.
The only dynamic enhancement is the addition of a front suspension bracing bar, but we suppose there's nothing wrong with getting a new set of clothes for your birthday, which is what this special edition really amounts to. No prices have been revealed as yet, but the regular 1.8 model starts at £16,795.