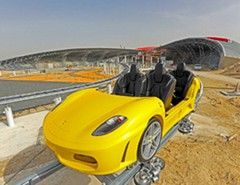 Say hello to the newest Ferrari GT car
We've AMEinfo.com to thank for this video insight into the new Ferrari World themepark facility due to open in Abu Dhabi later this year, next door to the new Yas Marina circuit.
Features of what is claimed to be the world's largest indoor themepark include a pair of rollercoasters - the F1 Coaster which exposes you to F1 speeds and G-forces, and the GT rollercoaster which has two cars competing along parallel tracks to give you that authentic 'racing' sensation.
Each GT coaster car will be a 'replica' of the F430 Spider, as shown by this first picture revealed by Ferrari in the last few days.
Tacky? Definitely. But we still want to ride!
Ferrari World Preview:
Click 'play' to view