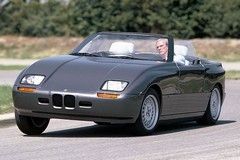 Z1 was BMW Technik's first project
BMW's R&D wing, BMW Technik GmbH, is celebrating its 25th birthday. To mark the occasion, the boys and girls from Munich have officially revealed (or more accurately re-revealed) a whole host of historical concept cars created over the past quarter-century.
Highlights of the collection include a 1988 Z1 coupe based on the drop-top Z1 (which was Technik's very first project), a fuel-cell hyrid based on a 1-series, a 4wd V8 off-road buggy called the Z18, the six-pot M3-powered Z29 coupe (a symphony in carbon fibre, plastic and aluminium and a bodyless sports car concept similar to an Ariel Atom.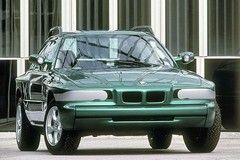 Z1 Coupe concept remained just that - a concept
The company was founded in 1985 in order to concentrate on "the development and construction of concept vehicles". In 2003 Technik was rebranded BMW Forschung und Technik GmbH, as the company shifted focus to develop technology for all BMW vehicles
Today, BMW Technik employs around 200 people and is currently working on the development of in-car information and communication systemes, driver safety and assistance tech, alternative drive concepts, hydrogen and - er, well - general vehicle engineering.
Nice people that we are, we've posted some of the zaniest conceptual highlights of BMW Technik's work to date (above and below). All captioned-up and everything…
| | |
| --- | --- |
| Unbelievably, the Z3 got the production nod over this, the Just 4/2 | Z13 from 1993 had 1-plus-2 seating and a rear-mounted engine |
| Z18 was a wacky off-road buggy... | ...a touch of E36 3-series in the rear, maybe? |
| 2001 Z29 had a carbon fibre monocoque and M3 engine | Z22 had 5-series space in 3-series dimensions |