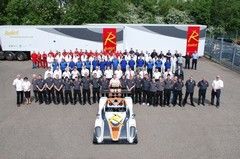 It's always nice to celebrate a good news day for a British sports car manufacturer, and last week marked a major milestone for Radical, with the company building its 1000th car.
It has taken 13 years to manage that feat, however, but for a tiny company that is more of a racing car constructor than a road car manufacturer, that ain't half bad.
In fact, Radical reckons itself to be the world's most prolific sports-racer constructor, with models racing in such far-flung places as Australia, Angola, China, the Middle East and the west coast of the USA. Radical has even found time to compete in four Le Mans 24hr races with its SR9 prototype racer.
Radical has also established 12 international race series and is now looking into alternative energy sources - including plug-in electric racers.
It's all pretty impressive for a modest company from Peterborough with a workforce of just 120 people.
"By constantly redesigning, developing and testing our range, we have produced a product of the highest quality, and can ensure support for customers and distributors right across the globe," says company co-founder Mick Hyde. "It's these reasons that Radical Sportscars continues to go from strength to strength; I'm confident that the next 1,000 cars will be produced even quicker than the first".