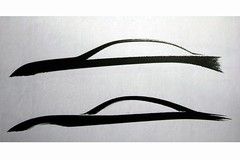 This sketch is a part of a trademark filing by Nissan North America for something mysteriously entitled 'IPL'.
This stands for Infiniti Performance Line, and will be used as a label for a series of performance upgrades, including "High performance motor vehicle parts, namely drop in filters for automotive engines, catback exhaust systems comprised of muffler assemblies, exhaust tips and connecting pipes."
Most interesting is the part of the filing that cites "automotive engine parts, namely turbo chargers and super chargers".
That means a range of go-faster bits for hot Infinitis are almost certainly on the way to the US. Sounds appealing, but IPL Infinitis in the UK are still a long way off.
We spoke to a friendly chap from Infiniti Europe who said that, since the brand was so new to the UK, we wouldn't be getting IPL Infinitis just yet. He didn't rule it out for the future, however...