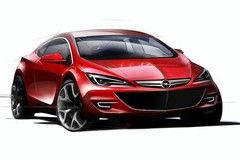 How the next hot Astra could look
The VXR version of the next three-door Vuaxhall Astra will get 300bhp to enable it to target the Ford Focus RS and Renaultsport Megane head-on.
A Vauxhall source told Autocar that "the VXR brand is about extreme performance. It's safe to say that the next Astra will build on where the current car is and react to market trends. It'll be quite a power hike over the current car."
GM will apparently stick to the turbocharged 2.0-litre formula used in the current car, using a more highly-strung set-up rather than switching to a hefty V6 to make the extra power - the current VXR makes only 237bhp.
Autocar reckons that the next VXR will get some sort of electronic differential, Golf GTI-style, to help control all the power and the torque going through the front wheels.
The regular Astra Sport Coupe three-door will make its debut at the Paris show this September, but we'll have to wait until the end of 2011 for the VXR version.