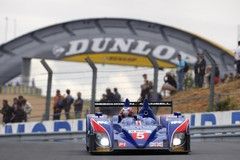 Thanks to the very nice people at Haymarket's motorsport agency LAT Photographic (and with a little extra help from our friends) PH is proud to share this pictorial tribute to the Beechdean Mansell Motorsport team at Le Mans.
A week after a heart-breaking end to their 2010 Le Mans dream, when a slow puncture induced an accident that caused retirement on only the fifth lap, it's pretty pointless to speculate on 'what might have been'. (Particularly as even finishing the race on their debut outing was always a long shot!)
All we will say is these pictures tell a very different story to the result that will be entered in the official Le Mans record this year, but it's definitely the story that we'll remember. Meanwhile, you can still show your support for 'Red 5' and the team by joining the Beechdean Mansell Motorsport fan club, or by supporting the team in person when they return to race at Silverstone in September.
Gallery Page 2
Gallery Page 3
Gallery Page 4
(Photographic prints from LAT's motorsport archive can be purchased here.)