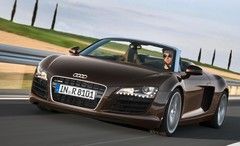 The delectable Audi R8 Spyder range has been broadened with a new generation 4.2-litre V8 FSI petrol engine to run alongside the existing 5.2-litre V10 FSI.
The latest version of the dry-sumped 4.2-litre FSI V8, (which will be shared with the Coupe), complies with EU5 emissions limits with the help of a new recuperation system that conserves energy during coasting and braking. Its increased 424hp output (previously 414hp) peaks at 7,900rpm, with maximum torque of 317lb ft arriving at 4,500rpm.
In conjunction with both the standard six-speed manual transmission and the optional six-speed S tronic automated manual, Audi says the R8 Spyder V8 can sprint to 62mph from rest in 4.8 seconds, and "in the appropriate circumstances" manage a top speed of 186mph.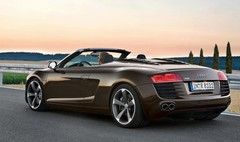 The new Spyder version gets essentially the same spec as the V8-powered R8 Coupe, but with heating and electric adjustment for the seats, plus Bluetooth mobile phone preparation incorporating seatbelt-mounted microphones which make it possible to talk on the phone even with the top down on the motorway. Metallic paint is also added over and above the R8 V8 specification.
The new R8 Spyder V8 is priced at £95,545 for the six-speed manual version and £100,855 for the six-speed R tronic automated manual. UK customer deliveries will begin in January 2011.