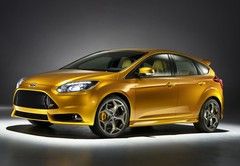 This new generation Ford Focus ST will be previewed at the Paris motor show next month, although the 247hp hot hatch won't make production until early 2012.
Paris will be the first time the complete line-up of production-ready new Focus body styles will be displayed together, which is relatively interesting.
More interesting is the fact that the Focus ST version is getting a distinctly harder-edge (well, all things are relative), with a power upgrade from the current model's 220-something hp, and styling that's definitely more attention-grabbing - apparently as a result of customer criticism of the current model's low-key approach.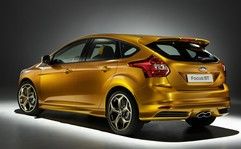 The Focus ST is targeted for launch in all Ford's global markets, and will be Ford's first high-performance model developed under its global Performance Vehicles strategy.
Power will come from a version of the new 2.0-litre, four-cylinder Ford EcoBoost engine, and in case you were wondering the show car pictured here is finished in what will be a new addition to the colour range called 'Tangerine Scream'. No... say it LOUDER!!!