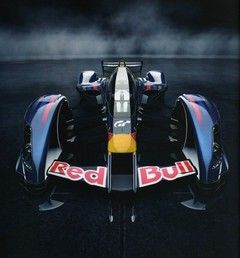 Polyphony digital's
Gran Turismo 5 might have been delayed
(yet again), but one of its most intriguing creations has been revealed - the Red bull X1 prototype.
The X1 (revealed in this month's CAR Magazine) is a virtual collaboration between Polyphony and Red Bull F1 - with significant input from Red Bull's legendary aero man Adrian Newey - to create a no-holds-barred flight-of-fantasy racer.
It's a response to Gran Turismo series creator Kazunori Yamauchi's question: "If you built the fastest racing car on land, one that throws aside all rules and regulations, what would that car look like, how would it perform, and how would it feel to drive?"
Freed from the strictures of F1 tech regs, Newey has come up with a Caparo-esque design with some pretty spectacular stats. Its gas turbine engine creates 1483bhp at 15,000rpm, develops 527lb ft of torque at 12,000rpm and drives the rear wheels via a CVT gearbox.

The whole lot weighs just 545kg, can hit 249mph and, in the hands of Sebastien Vettel, can knock out a virtual lap of Suzuka 20 seconds faster than an F1 car.
Among the more intriguing features of the X1 are the enclosed wheels, and the 'fan element' at the rear of the car (which is more than a little reminiscent of the device fitted to the Brabham BT46 fan car from 1978).
Now all Red Bull needs to do is build the car for real (pretty please?)...