What will they think of next - an electric unicyle you can use to power-up your inline skates and reach 30mph with 'no hands'? Nah. Nobody would be that stupid!
But wait...
It's all true. The device is called the FlyRad, as you'll know by now. (Assuming you've just watched the video.)
You can probably expect hordes of them to start filling up the 'cyclist only' zone at your local traffic light soon. Or perhaps not.
Still, it looks like a laugh - especially for everyone else when you drop a skate into a pothole at 30mph. Oof!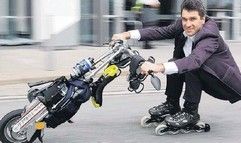 (Thanks to PHer
Gadgeroonie
for pointing us to
Gizmag
. And no, that's not him pictured on the right.)