Audi has revealed its latest RS-badged car, the 335bhp RS3, which will become the most powerful hot hatch on sale in the UK when it goes on sale in spring 2011.
The new RS3, which uses the 2.5-litre turbocharged five-cylinder engine from the TT RS, is out-punched by the Subaru Impreza Cosworth (395bhp) and the Focus RS500 (345bhp), but both are limited-run models, and both are sold out.
The engine's 335bhp and 332lb ft motor is transmitted to all four wheels via a seven-speed S Tronic twin-clutch transmission. That's enough to push the RS3 to 62mph in a claimed 4.6secs on the way to the almost inevitably limited 155mph top speed.
But unlike the RS5, which gets a 'proper' crown gear differential, the RS3 has to make do with a less sophisticated Haldex viscous coupling set-up.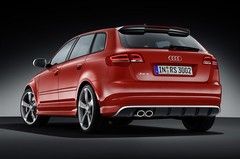 The RS3 isn't really going to be taking on other hot hatches, either - its power and pace will push it well above the likes of the Golf R and forthcoming new Astra VXR and Focus ST.
Instead, the RS3's closest conceptual rival is the oh-so-nearly-here 350bhp BMW 1-series M Coupe and, at an expected £40k, the RS3 should be pretty close on price to the BMW, too.
But one thing will differentiate the RS3 from the 1-series M Coupe - the RS3 is only available from launch as a five-door 'Sportback', and Audi isn't saying whether it will bring in a three-door version.