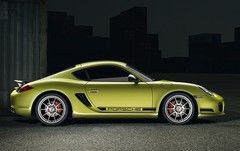 VW CEO Martin Winterkorn has told Porsche that it has 'won' the right to develop the top-end sports cars and luxury saloons for the VW group.
There's nothing like a bit of in-house rivalry to keep the various brands of your giant automotive empire on their toes. Nobody knows this better than VW, which has for the past few months been pitching Audi against Porsche in a Harry Hill-esque battle to take the development lead for the group's high-end models.
The announcement is obviously a blow to Audi, but quite a fillip for Porsche, and will calm concerns within the Porsche ranks that the brand could get a little lost as it becomes the 10th brand to be subsumed within the VW empire.
What it also means is that Porsche will take responsibility for the platform that will underpin the Panamera and future Bentleys (known as the 'modular standard matrix'), as well as a platform for future front-mid and rear-mid-engined models for itself, Audi and Lamborghini.
Audi will continue to take the lead on the 'modular longitudinal matrix' that forms the basis for the Q5, A5 and A4, among others.