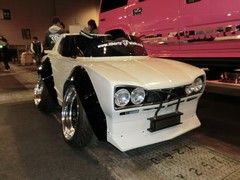 It's well known that the Japanese tuning scene is an idiosyncratic beast, but this astonishing creation - which looks for all the world as if it could have driven straight off
PH's very own 'shortened car' photoshop thread
- is truly amazing.
It's the work of wonderfully deranged Japanese tuning company Liberty Walk and is a replica (if that's the right word) of a 1970 Nissan Skyline GT-R - based on a quad bike, of all things.
We don't know how much the single-seater Nissan-alike will cost you, but Liberty walk also does a 'Lambormini' along the same lines - and that'll cost you around 1.88 million yen (or £14,500).
That's quite a lot of money, but who can put a price on this sort of madness?