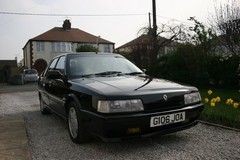 If you started naming rapid turbocharged cars from the eighties (okay, this one was registered in 1990...), how long would it be before you thought of the Renault 21 Turbo?
The commercial success of the Renault 5 GT Turbo and the competition success of all-wheel-drive contemporaries such as the Lancia Delta Integrale kind of left the 21 as the 'forgotten' fast Renault. So imagine our surprise when we spotted this 21 Turbo on eBay.
As you'd expect, it isn't without one or two issues, but there's nothing that should put you off if you want some retro Renault performance for a change, and can't find an R5 GT Turbo that hasn't been subjected to the 'Ali G' treatment.
It certainly looks the part, and the vendor reckons it could be the best example in the country.
We can't really argue with that, because if you wanted to find another one in this condition with full Renault history, a pre-delivery inspection sheet, and only 92,000 claimed miles, you'd probably struggle...or is there perhaps a PH sub-culture for obscure fast eighties French saloons? Citroen CX GTI Turbo, anyone?