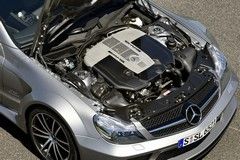 Mercedes has quietly dropped its V12-engined SL-class cars, well before the current 'R230' SL bows out next year, to be replaced by an all-new SL.
Both the SL600, with its 503bhp 5.5-litre biturbo V12, and the 604bhp 6.0-litre SL65 AMG are no more, as Mercedes winds down its SL offerings in readiness for the arrival of a new model.
What's not clear, however, is whether the 12-cylinder SL will come back even with the next-generation car. Not only is there increasing pressure on car makers to downsize their engines, but the top-end Mercedes SLs have seen their limelight and sales pretty much stolen by the SLS AMG coupe and roadster.
So is this the end for the V12 SL? Could be...