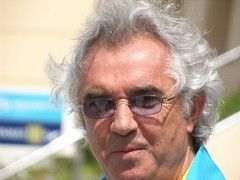 Former Renault F1 boss Flavio Briatore could be set to return to motorsport after the French high court overturned the FIA's decision to ban him from the sport for life.
Briatore was issued with lifetime ban by the FIA for his part in the controversy surrounding the 2008 Singagpore Grand Prix, where Renault driver Nelson Piquet Jr deliberately crashed his car in order to force a safety car period.
Briatore's lawyers argued that the FIA had contravened its own international sporting code in some of the procedures it followed during the investigation into the affair.