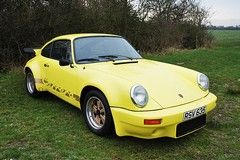 One 911 with one not-so-careful owner
A mega-rare Porsche Carrera RS that once belonged to James Hunt is up for sale at £365,000.
The 1974 Porsche 911 3.0-litre Carrera RS is one of only six made in right-hand drive and was part of the homologation process for the 911 RSR endurance racer.
The car - chassis number 99 - was originally sold to Lord Hesketh, owner of the Hesketh F1 team. Hesketh driver James Hunt was given the car as part of his remuneration package, and Hunt used the car throughout 1974, 1975 and even 1976, when he had switched to McLaren for his championship-winning season.
"This car is clearly an important piece of motoring history. Hunt was an enigmatic champion, and this car was with him during the peak of his career", says dealer Nick Whale, who is selling the car. "That it is also such a rare piece of Porsche history too, makes this a car not to be missed by any Porsche enthusiast."