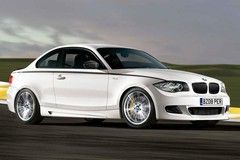 The
1-series M car
which BMW M Division boss Dr Kay Segler is so keen to make is far from a done deal, according to senior BMW sources.
At the launch of the new 5-series (which you'll be able to read all about on PH soon), we collared one BMW suit-type to ask him how the plans were going for the hot 1-series.
He was reluctant to reveal any concrete plans either way about the proposed car, but did say this: "The thing you have to remember about BMW is that every model must make money, so the question is: could we make this happen with a 1-series M? Besides, what would you call it? You couldn't call it an M1."
We also managed to grab a few words with BMW chairman Dr Norbert Reithofer. 'Is the 1-series happening?' we asked him. Not a chance of him telling us straight, unfortunately. The only response we got was a wry smile and this: "A 1-series M? That might be a good idea..."
So will we see a hot M version of the 1-series? It seems BMW hasn't discounted the possibility, but that car will certainly have to sing for its supper.