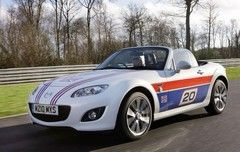 Road car...
We weren't overly impressed with the prospect of the Mazda MX-5 20th Anniversary Edition
when we first heard about it earlier this month
, but with the official announcement today we at least know it's pretty good value.
The 1.8-litre 126bhp special edition costs £16,850 on the road, making it £55 more than the standard 1.8 despite having 10 extra bits of kit worth over £650, according to Mazda. They also point out that, inflation adjusted, this is actually significantly cheaper than the original MX-5 in 1990. They're not wrong as the original car's cost of £14,249 is rather surprisingly over £24k in today's money - but lest we forget, this car is actually slower...
The photos issued by Mazda UK today show a stickered-up MX-5 that momentarily provoked excitement, until we found out that its the same rather tepid road car with, er, some stickers. It's apparently a graphic tribute to the rather more interesting 2.0-litre race-prepared MX5s that motoring hacks from all over Europe are currently competing in at the 'Mazda MX-5 Open Race' at the Adria International Raceway near Venice. (Presumably our invite got lost in the post!)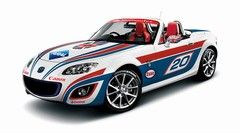 ... race car
That car is itself a more fitting tribute to the legendary roadster's 20th birthday, packing a full aero kit, two centre-exit twin stainless steel exhaust pipes, 17" lightweight alloys with slick tyres, a roll cage and carbon driver's seat. There's also a tweaked ECU, uprated brakes and clutch parts, though we don't know how much power is on offer.
Sadly the 140 examples for the race are not destined for the road. And before you get too excited (ahem), although you can't buy the stickers for your own 20th Anniversary Edition off-the-shelf, the demo models being used in dealerships will apparently be sold off at the end with decals intact. (You'll need a hair-dryer to get them off. How ironic...)
| | |
| --- | --- |
| | |
| | |
| | 10th Anniversary MX-5 had an extra gear |