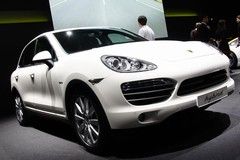 Porsche has revealed its all new Cayenne at the Geneva show and, you guessed it, this time it's 'greener'. Sort of.
Following the 'eco' SUV trend, the new Cayenne is lighter and more efficient than the car it replaces, coming with both a diesel and, for the first time, a Hybrid version. A near 200kg weight drop is mainly due to simplifying the transmission, which no longer comes with a low ratio 'box.
Prosche's Hybrid Cayenne comes with a supercharged 3.0-litre V6 offering 34.4mpg, and emits only 193g/km CO2. Its 'leccy motor, sandwiched between the engine and gearbox, moves the power output to 375bhp and torque to 427lb ft. The hybrid can run on electric power only (albeit for a short time) up to 40mph.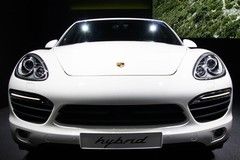 Porsche has introduced a new 'sailing mode' for the hybrid. This allows you to coast along at speeds approaching 97mph (where allowed) without combustion engine assistance.
It's worth noting that the Cayenne accounts for 50 per cent of Porsche sales, so a hybrid emitting less than 200g/km is going to do wonders for the brand's averages.
Diesel power returns with 20per cent better fuel economy, while the 240bhp V6 will now achieve 38.2mpg and 195g/km.
The 395bhp 4.8-litre V8 Cayenne S returns 15bhp more than before, though it also 'only' uses 26.9mpg on the combined cycle.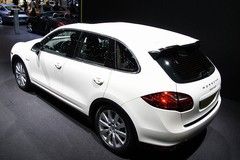 The 493bhp turbo model is also a little more frugal giving 27.6mpg. but don't ask about the CO2 emissions...
Prices start at £41,404 for the V6 Cayenne and shoot up to £81,589 for the Turbo.