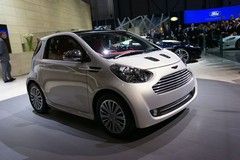 Contrary to expectations, the new Aston Martin Cygnet (nee Toyota iQ) won't be restricted to owners of Aston's 'proper' cars, although its high £30k price tag will put it way out of reach of most city car buyers.
Aston is bullishly hoping to sell between 2,000 and 4,000 copies of the Cygnet every year, which apparently amounts to less than one percent of the city car market. If successful, it would mark a significant volume increase for a company that presently builds around 6,000 vehicles annually. More importantly, it would reduce Aston's average fuel economy rating at a stroke, thus helping to reduce the impact of punishing tax regimes around the world.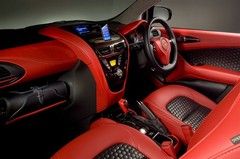 The Cygnet will be built at Aston's Gaydon factory, and cars will be offered with the standard Toyota 1.3 litre engine with manual or auto options. Aside from the obvious external tweaks - including that Aston grille and rear light graphic - most of the £30k will go on covering every inch of plastic in the cabin with hand-stitched leather.