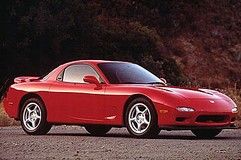 There's been speculation for a while now that
Mazda will bring back the RX-7
- in spirit if not in name - as the successor to the Mazda RX-8
Now Mazda's design boss - Ikuo Maeda - is helping to fan the flames.
"I do have a strong yearning to revive the RX-7 during my tenure," Maeda told US website Automotive News in a recent interview.
Maeda wasn't unequivocal, however - making it clear that Mazda is not about to launch a high-end sports car in the middle of a global economic crisis. "In order for that to happen" said Maeda, "we need the US economy to come back, first and foremost".
If anyone can revive the RX-7, however, it's Maeda - his father was also a Mazda stylist, and he created the original RX-7 back in the 1970s.