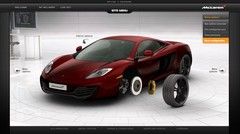 If you're in the market for a McLaren MP4-12C - or even just want to waste a little pre-Easter office time - McLaren Automotive has the perfect thing for you - an interactive online car configurator for its new supercar.
The new configurator allows you to pick from a massive range of options to cereate you ideal MP4-12C. There are 21 paint options alone, including the classic McLaren Orange.
Inside is the option of a 'Driver Zone', where owners are able to further personalise the area immediately around the driver. A choice of five leather trims can be specified solely for the driver's seat, door trim and dash insert. Apparently, the "resulting asymmetrical appearance enhances the driver-focused ambience of the cockpit", or so McLaren tells us.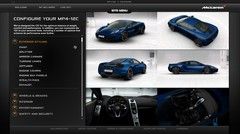 Performance upgrades include a lightweight sports exhaust system, carbon ceramic brake discs, polished-finish callipers and two lightweight forged wheel choices
If you want to waste as much time as we have this morning speccing up your ideal Macca (we'd have put up more articles today, but have been too busy in McLaren fantasy land - check out our effort below), then follow this link to the MP2-12C online configurator.