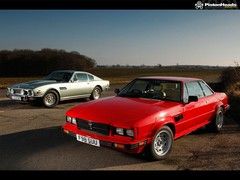 Click to preview
A juicy V8 GT double this week, courtesy of the fine fellows at
Classic & Sports Car
magazine, who feature The Longchamps and Aston in their latest issue
The De Tomaso Longchamps in the foreground might be a little less well known than the venerable Aston V8 lurking in the back of this picture, but both these V8 bruisers somehow managed to survive the 1973 oil crisis - production for both ran fro m1972 to 1989.
During that time, Newport Pagnell shifted 2012 V8 Astons, while De Tomaso sold just 409 Longchamps. Office feeling is that the British bulldog Aston edges the Longchamps, but a Dallara monocoque chassis and a 330bhp 351 cubic inch Ford V8 make the 149mph Longchamps pretty beefy. So that must make it beef Carpaccio, then...
C&SC's May issue came out yesterday (1 April), if you want a butcher's (no pun intended) at more pics.
Normal (1280x1024)
WideScreen (1440x900)
SuperSize (2048x1536)