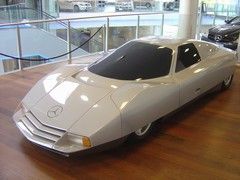 One of the original 1970s Mercedes-Benz C111 show cars has gone on display at M-B World Brooklands, after a close shave with a criminal gang who apparently tried to nick it off a lorry bringing it to England.
According to our source at M-B, the car was targeted by villains as its transporter waited for a Channel crossing. The theft was unsuccessful (obviously!) but the attempt left the car sporting significant damage to one of its gullwing doors and the nearside front wing. The damage has now been repaired.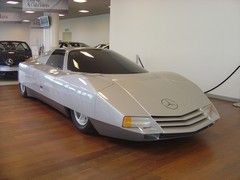 We're guessing the criminals had no idea what they were targeting, as this particular show car is a mock-up without an engine - although the image of a Flintstones-style getaway is quite amusing.
It wouldn't quite be the sort of 'alternative powertrain' the C111 was conceived for. Through the 1960s and 70s, various versions of the car were fitted with diesel, rotary and turbocharged engines, and in these various incarnations it pocketed various speed records.
A later version with 6.0 V12 power and called the C112 was mooted for production, but never made it, sadly.