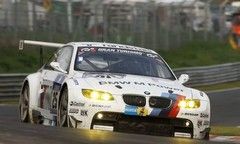 BMW claimed overall victory at this weekend's Nurburgring 24hr race, with one of its two works M3 GT2s beating a Ferrari 430 GTC and the third-placed Audi R8 LMS.
It wasn't an easy victory for the returning BMW squad, however - the 911 GT3 R hybrid of Jorg Bergmeister, Richard Lietz, Marco Holzer and Martin Ragginger was holding onto a comfortable lead until a technical problem forced it to retire a few hours from the end.
M3 drivers Jorg Muller, Augusto Farfus, Uwe Alzen and Pedro Lamy didn't escape technical problems either, and nursed their car home to take the chequered flag with fourth gear missing.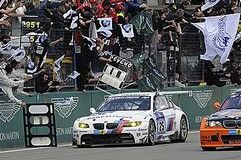 Audi's seven-car R8 challenge faded, with only two R8s making it to the end, albeit finishing in a strong third (an SP9 class win) and fifth places.
BMW's second M3 GT2 - part-driven by Brit touring car hero Andy Priaulx - battled from the back of the field after a first-lap crash to take seventh overall by the chequered flag, while the Z4 GT3s took ninth and fourth.
After the disappointment of losing the flagship hybrid racer, the highest-ranked Porsche was the sixth-placed number 20 GT3 Cup S.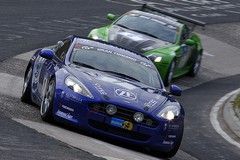 Further down the rankings, Lexus took an SP8 class win with the Gazoo Racing LFA. Second was the Aston Martin Rapide part-driven by company CEO Dr Ulrich Bez, while the V12 Vantage - Aston's other works entry - took the third spot on the SP8 podium.
BMW's win - its 19th at the 'Ring - puts the squad on form for its next big test: the attack on the 24 hours of Le Mans on 11-12 June.