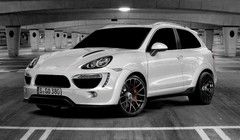 This, er, eccentric three-door Porsche Cayenne is the planned first creation of newly established British tuning outfit Merdad.
The image of the much-modified Porsche SUV has been doing the internet rounds over the past few days, so we thought we would give the eponymous Merdad Hoodeh - the man behind the project - a bell to see if we could get a little concrete info on the new car.
For the past few years Merdad has imported Gemballa-tuned Porsches into the UK, working closely with the German tuning firm. But since founder Uwe Gemballa's disappearance in February and the company's subsequent collapse, Merdad has been focused on his own project.
The three-door Cayenne has in fact been in the works for the past seven months - well before Gemballa's disappearance - and Merdad hopes to give the final production car its public debut at the Geneva motor show in 2011, with a 'concept' version earmarked for the British MPH show this autumn.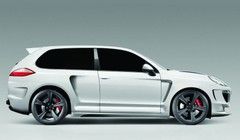 The car itself will be a powered by a 750bhp version of the Cayenne's standard 4.8-litre turbo V8 - though Merdad isn't saying exactly how it will get that power.
Inside will be expensively trimmed, with an extensively modified front cabin intended to give a sporty ambience, and a luxurious rear in the 'style of the Bentley Flying Spur'. But the weirdest fact we gleaned is that the car won't have been shortened - so why the rear doors have been dropped we're not quite sure.
If the new Cayenne isn't for you, however, Merdad also revealed that it has been working on a modified version of the just-defunct Cayenne, with Panamera headlights. Curiouser and curiouser...