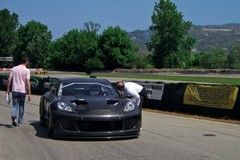 These are the first images of the new Porsche Panamera racer. It's been developed by Italian touring car veterans N.Technology for the Superstars touring car series.
The Panamera is set to make its competitive debut at Hockenheim on 13 June - the fourth round of the Superstars championship. The Panamera will join battle with a wide variety of big saloon cars, including a gaggle of BMW M3s, C63 AMGs, Audi RS4s and even a Jaguar XF (which we reported on back in December).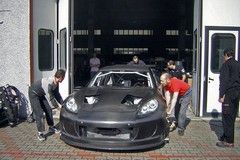 The car itself is based on the non-turbo, 394bhp Panamera S, but gets its power boosted to 444bhp. The Panamera racer also weighs in at 1320kg, chopping 550kg from the kerb weight of the road-going Panamera.
Behind the wheel of the car at Hockenheim will be Italian touring car veteran - and winner of eight touring car titles - Fabrizio Giovanardi.
Spec-fiends can pore over the more in-depth technical aspects of the Panamera racer below: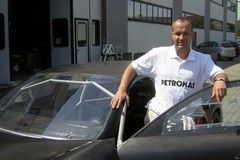 Chassis: Steel frame with aluminum components
Engine: V8, front
Capacity: 4.8 litres, 4 valves per cylinders
Power: 450hp
Intake: Single throttle
Traction: Rear wheel drive
Friction: Carbon double discs diameter 184 mm
Gearbox/transmission: 6 gear sequential, self locking ramps and plates differential
Brakes: Front 355×35 disc, with 6 pots caliper, Rear 330×32 disc, with 4 pots caliper
Steering: Pinion and rack
Suspensions: Front double wishbone with 3 ways adjustable dampers, rear four rods multilink with 3 ways adjustable dampers
Wheels: Magnesium wheels 10,5×18
Tires: Michelin 27/68-18
Aerodynamics: Front splitter, front and rear widened fenders, Rear wing (single supplier of the same element for all cars)
Weight: 1,320kg
Pics courtesy of Jon Sibal.com