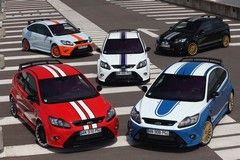 Five classic Le Mans colour-schemes
Ford of France will reveal five Focus RS special editions at the Le Mans Classic event next month, each one with a special livery paying homage to a historic Ford Le Mans racer.
Our favourite is the two-tone blue and white car that mimics the Capri RS which won the Touring category in 1972, although we'll understand if you prefer the Gulf livery from the late '60s GT40s.
Apparently the five 300hp cars are destined to be driven by VIP guests at the Le Mans Classic in July before being put up for sale, so presumably PHer Garlick will be invited to have a go when he's representing team PH at the event. (Or maybe not. Ed.)
Apart from the racy paint jobs, each Focus RS gets special diamond-quilted upholstery with stitching colour-coded to the exterior, and a commemorative badge on the facia. They'll also come with a limited edition Le Mans Classic watch, we're told.