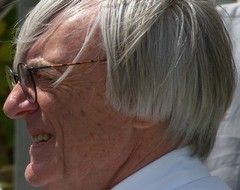 Bernie Ecclestone reckons that the 'second division' F1 teams that have joined the grid this year bring very little to the sport.
The F1 supremo even told the Telegraph that he reckons a couple of the teams will drop out before the end of 2010. And it's not a good thing to be on the wrong side of Ecclestone.
"I would not be surprised if one or two of [the new teams] did not make the end of the season," he said. "I think there are a couple of teams in Formula 1 who really shouldn't be there. They are a bit out of their depth at the moment.
"The bottom line is they haven't really and truly given us value for being there. If suddenly these teams don't turn up at races then I don't think the crowds will get any smaller, or the TV sets will turn off, or the newspapers will stop writing, will they?"
Ecclestone seems to be a little more kindly disposed towards Lotus: "Lotus is a good name. I wouldn't want to lose them. But in general this year has been a bit of a nuisance because it has cost money to keep these [struggling] teams in."