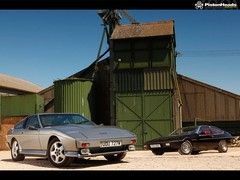 Click to preview
The design story of the compass-and-set-square TVR Tasmin and Lotus Eclat is perhaps one of the cheekiest in British sports car history. Having created he the Eclat in the early 1970s, designer Oliver Winterbottom then flogged almost the same design to TVR to create the Tasmin. Genius.
Actually, that's a bit unfair - these origami coupes might look similar, but they're definitely not the same - even though both push out an identical 160bhp via a front-mounted engine driving the rear wheels and break 60mph in a little over eight seconds. Definitely not the same. At all.
Joking aside, you can read more about the Cologne V6-engined Tasmin and Lotus slant-four Eclat in September's issue of Classic & Sports Car, from whence we purloined this rather pretty picture... enjoy...
Normal (1280x1024)
WideScreen (1440x900)
SuperSize (2048x1536)