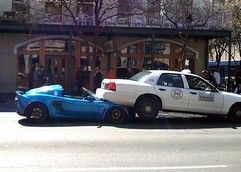 Another Lotus 'press release' crashes in...
Those crazy PR-anksters at Lotus are at it again, this time with an 'accidental' email revealing - well, not a lot really - about the company's plans to wow the Paris motor show in September.
The supposed exchange between a Lotus UK PR type and his US colleague was cc'd to a media mailing list today, and hastily withdrawn via a follow-up email pleading with us to delete the contents from our mailbox.
Happy to oblige, chaps...
Email transcript below:
On 16 August 2010 15:24, Florance, Alastair <xxx@lotuscars.co.uk> wrote:
Hi Kevin,
No problem and to be honest, it's good that you ask - it's crazy with everything that's going on at the moment so I don't blame you.
So to answer your questions, yes the Evora S and Evora Auto will be on the stand in Paris alongside the new car(s) not yet announced (let's maintain the mystery for now!)
We are aiming to send out a press release about the Evora S and Evora Auto during the last week of this month. I've driven a prototype of both the Evora S and the Auto and I can tell you both cars are sensational. The S will be ready for media drives almost straight after Paris, in the US this will take place early next year. We have to be careful with the timing as we have so much going on and the impact from Paris will be big.
Just for you to know, and please keep this confidential, our test team will be putting both cars through their paces on the Nordschleife at the Nuerburgring from tomorrow on for three days, so we should have some good feedback to work with shortly.
With regards to exactly how many cars we will be revealing in Paris, that's still TBC - Marketing is making final arrangements with the event agency to make best use of the 10,000ft² (960m²) stand space. I'll keep you posted as soon as we have everything 100% confirmed.
If there's anything else, just let me know.
Thanks, Alastair
Alastair Florance
Group PR Manager
GROUP LOTUS PLC
Potash Lane, Hethel, Norwich, Norfolk, NR14 8EZ, England
T +44 (0)1953 608xxx
F +44 (0)1953 608xxx www.grouplotus.com
xxx@lotuscars.co.uk

________________________________________
From: Kevin Smith [mailto:xxx@lotuscars.com]
Sent: 16 August 2010 14.03
To: Florance, Alastair
Cc: Media Team
Subject: Paris Questions
Hi Alastair,
Following on from our conf call, I just wanted to email you with some thoughts and questions.
It seems from the media coverage mentioned that there's still a great deal of speculation regarding the new cars, which is great but it reminded me that I need to clarify a couple of points with you going forward:
- Will the Evora S and Evora Auto be on the stand in Paris along with all the new cars?
- When will we be able to communicate the Evora S? I know a lot of people (media and consumers) are expecting it so it would be great to get a heads up on this.
- When will the Evora S be ready for media drives?
- When will be able to communicate the Evora Auto? (Great idea for this one)
- How many cars exactly will we be 'revealing' in Paris?
Sorry if a lot of these points have already been clarified, I just want to make sure that I've got things right, it would be great to avoid any mis-communications.

Thanks, Kevin
Kevin D. Smith
Marketing and PR Executive
LOTUS CARS USA, INC.