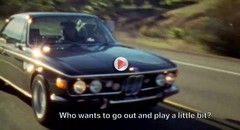 If we had owned a BMW 2800CS for 40-odd years and racked up over 450k miles, we like to think we'd be cool like Murray.
He's a far-from-fossilised octogenarian that BMW's ruthless marketing cynics have dug-up in Costa Mesa, California, to make us feel warm and fluffy about the brand.
And you know what, it's only worked… the absolute blighters!