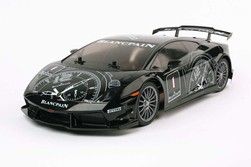 Remember 'Vanessa's Lunchbox'? How about 'Rough Rider' or 'Bruiser'? Far from being titles of specialist publications, these names should evoke childlike excitement from anyone old enough to remember Tamiya R/C cars from the 80's. For younger readers, insert the more recent Tamiya model name of your choice for the same effect.
Here at PH Towers we love radio controlled cars, and we especially love those created by Mr Tamiya himself. PH Ed Chris-R recently treated himself to the re-launched Sand Scorcher, another firm childhood Tamiya favourite based on a VW 'Baja' Beetle. Disappointingly he hasn't allowed any of us to have a go around the car park as yet, but it's fair to say that his R/C car created almost as much excitement in the office as the latest supercar does.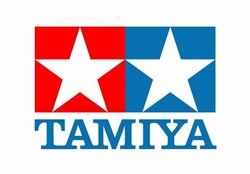 A few weeks ago we had a meeting with the chap who looks after Tamiya in the UK and spent a fair while pouring over brochures, telling tales of R/C heroics and trying desperately to blag one for ourselves. We failed to secure an office 'long-termer' but we did manage to get one for a PHer to keep (unless we 'forget' to send it to you, that is) and it's a Lamborghini no less.
Sadly, the days of comedy names are long-gone and this car is snappily titled the 'Lamborghini Gallardo Blancpain' but roughly translated that means it's a gorgeously styled, well built, and fast R/C machine.
It's 1/10 scale - 450mm long and 204mm wide, has a polycarbonate body with shaft-driven 4-wheel drive TT01 Type-E chassis, front and rear oil dampers and a body that was created using blue-prints of the actual car. It looks great, and while we would love to give you the definitive road test verdict, Tamiya forgot to send us the battery charger (it's in the post).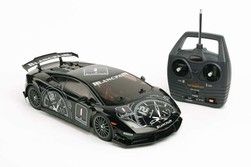 Obviously we don't really want to give this away, so if you would be so kind as to not enter we'd really appreciate it.
However, if you do want to ruin our day then all you need to do is email competitions@pistonheads.com with 'Tamiya' as the subject line. Make sure you include your name, address and daytime phone number within your e-mail.
One entry will be picked at random from the electronic straw-boater on Friday 24th September at 12.00, and that person will win the Lambo. (So remember, please don't enter before the competition closes.)
Thanks to the guys at Tamiya for the prize, and to Mr Tamiya for the memories.