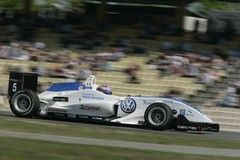 VW's possible plans to enter F1, which we told you about back in May, will be 'discussed' in November, according to the company's motorsport representative, Hans-Joachim Stuck - along with the possibility of entering NASCAR.
The German giant (that's VW, not Stuck) has been rumoured to be eyeing F1 when the engine regulations change in 2013, possibly with a Porsche or Audi branded team.
Stuck told the Financial Times Deutschland, however, that he would not comment on the speculation other than to say that a meeting in November is planned "in which the (company's) strategy will be discussed".
He did also say that a VW entry into NASCAR was actually more likely - so VW's future involvement in F1 is far from certain.