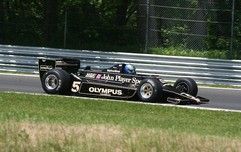 The classic black-and-gold John Player Special livery is to make a comeback to the F1 grid in 2011.
Lotus is to ditch its current green-and-yellow colours for next season and, for the return of 'JPS' colours (though not sponsorship of course), will even hold a competition to let Lotus Racing fans design the new livery.
"Giving those fans the chance to help us bring it back to the contemporary grid is true to our core belief of putting our supporters right at the heart of Lotus Racing - we can't wait to show the world what we come up with," said Riad Asmat, the team's chief exec.
Lotus Racing clearly hope that they can emulate the success of their illustrious forebear which, in JPS livery, took two drivers' and three constructors' titles during the 1970s - the last championship trophies that Lotus lifted in F1.
The iconic livery was run from 1972 to 1979, then again from 1981 to the end of 1986 and even gave Ayrton Senna his first GP win, before Camel backing came in 1987.
"When we first unveiled our 2010 car there was unanimous praise for our decision to bring the historic green and yellow livery back to the modern F1 grid," said Asmat. "I know the return to the track of the legendary black and gold will be met with even more universal support as it strikes such an emotional chord with fans around the world."

Pics: edvvc, Mike Powell, Lothar Spurzem