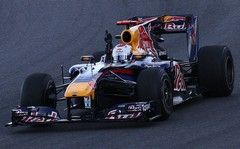 Everybody at Red Bull F1 is to get at least a £10k bonus, while newly crowned F1 champ Sebastien Vettel has earned himself 3 million euro (£2.6m) extra from Red Bull for his 2010 troubles, says German newspaper,
Bild
.
Red Bull boss Dietrich Mateschitz is obviously happy with his team's performance this year - every single member of the team's 500-plus staff is getting £10,000 each for helping to bring both F1 championships home to Milton Keynes.
And that's only the basic employees, says Bild - more senior staff are getting up to £42k extra.
Mind you, Red Bull and boss Mateschitz can afford it, he's already a billionaire and the team is looking at a total prize money windfall of £62 million - which more than covers the Austrian's generosity.
Having said that, Mateschitz doesn't give Red Bull a bottomless pit of money - he's told Bild that Red Bull's budget is "roughly in the lower mid-range" of F1 budgets, which he reckons range between "probably 100 and 500 million euros".
Pics: Morio