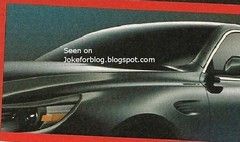 The moribund De Tomaso marque is set for a comeback, if these pics from Italian car mag
Quattroruote
are anything to go by.
But admirers of the Pantera may be disappointed, for these images, as scanned by Italian blog site Jokeforblog seem to show glimpses of something that is most definitely not a sleek coupe.
In fact, it looks like the first fruit of the De Tomaso revival, enigmatically referred to as the 'SLC', will be either a saloon or a luxury SUV. Either way, we'll find out at the Geneva show next March, when new owner Gianmario Rossignolo hopes to show the first 'new' De Tomaso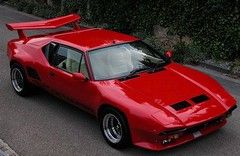 The classic Pantera
As we revealed in November 2009, Rossignolo - a former boss of Lancia and Zanussi - has been quietly buying up manufacturing plant (as well as the De Tomaso name)
for a three-tier De Tomaso model range
including a saloon, an SUV and a sports car.
It all seems very nice, Gianmario, but what we really want is one of these (see right)...