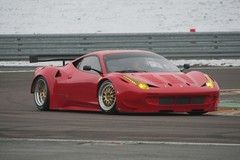 Although a GT2 version of Ferrari's smallest supercar tends to be as predictable as gridlock following two inches of snow, it's always nice to see it when it arrives.
And this Ferrari 458 GT2, spotted testing recently at the firm's Fiorano test track, is a pretty mouthwatering prospect.
As a racer the 458 GT2 will have a lot to live up to, however. Its GT2 predecessors, the 360 GTC and the 430 GT2, were pretty successful endurance racers, with a string of sports car race victories (including Le Mans class wins) under their collective belts.
Still, if it goes as well as it looks, we reckon the 458 GT0 will have no trouble at all.
Ferrari hasn't released technical details of the car as yet, but we do know that power will be down on the road car's 552bhp output at around 470bhp, courtesy of mandatory air restrictors. That's also around 30bhp less than the 4.0-litre engine in the F430 GT2. The 458 does save around 240kg of kerb weight on the road car, however, at an estimated 1245kg.