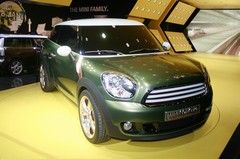 The
Mini Paceman Coupe-Crossover thingummy
based on the Countryman SUV has been given the green light for production, according to BMW board member Ian Robertson.
According to industry publication Automotive News, Robertson revealed that the Paceman will form part of a veritable deluge of new models from Mini over the next few years, following on from the Mini coupe that's expected to go on sale later this year, and a roadster version that's due in 2012. Exactly when the Paceman will hit showrooms, however, Mini isn't yet saying.
"We' will take this car [the Paceman] into engineering now and over the next few months we'll firm up the exact launch date for it," said Robertson. He also suggested that there would be relatively few differences between the concept and production Pacemans (Pacemen??), saying that "you'll find the resemblance very, very strong."
The Paceman might not be the sort of car to get PHers' hearts racing (it hardly got a glittering score on the hallowed P.H. O'Meter when we first showed you the Paceman concept), but Mini apparently reckons there's a fair market out there for buyers who want a 4x4 SUV, but also like the idea of a 'sporty' coupe. There's no accounting for taste, we suppose...
| | |
| --- | --- |
| Something like this roadster concept from 2009 is also on the way... | ...as is a production version of this coupe effort |