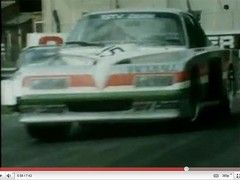 From a time when men were men and the best racing cars had more power than grip comes this fabulous mini-documentary about Dealer Team Vauxhall and the iconic Baby Bertha.
What's unfortunate, given the fact that this appears to be a promo video, is that this is one of the very few races that Bill Blydenstein's creation didn't win.
At the hands of the legendary Gerry Marshall, Baby Bertha took two consecutive Super Saloon championships in the mid-70s, but this documentary features the only race this car ever came second in - its third outing, at Oulton Park.
More embarrassing still, the car that beats it is a Skoda (albeit a mighty quick one). Gerry has a fine list of authentic racing driver excuses at the end, though, ranging from overheating brakes to using the wrong tyre compound.
Mind you, given the car's subsequent massive success, perhaps those excuses are actually justified... and whatever the result, we reckon it's a cracking watch, particularly with the oh-so-seventies backing track...