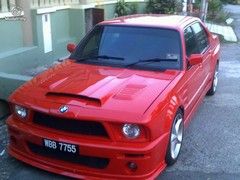 Here on PH we are rather partial to a BMW. We also know there is more than a little fondness for Nissan's Iconic Skyline GTR and - well - we wouldn't be a very good car site if there wasn't at least a little enthusiasm for the Good ol' Ford Mustang.
So a car combining all three should be a cracker, right? Er...
What you see here is the unfathomable creation of a mystery Malaysian, who started off with a 1980s vintage BMW 728i (an E23, for fans of 'E' numbers), and bolted on a Mustang-esque front end, along with the tail lights from an R34 Skyline.
We can't tell you a great deal more about this car, other than the fact that it did at least leave the BMW factory sporting a 181bhp straight six, and that it was spotted by a reader of us blog site Carscoop, who saw it for sale on Malaysian classified site Mudah.my. Nor can we shed any light on the motivation behind such a project.
Perhaps, since European and American cars are highly taxed and expensive commodities in Malaysia, the owner wanted to get three for the price of one. Or maybe he wanted a car with the luxuries of a BMW, the muscle of a Mustang, and the hi-tech wizardry of a Skyline...we'll probably never know...