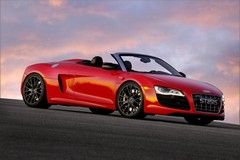 Ordinarily when we present you with a mega-power conversion for an already powerful performance car, it is with a tinge of frustration, because generally these beasts aren't officially imported into the UK.
This time, however, it's a little different, because this car, the Audi R8 V10 Challenge Extreme Edition (yes, we know they could have come up with a better name) is being officially launched onto the UK market by American VW group machinery tweakers STaSIS Engineering.
Designed presumably for those who feel that 525bhp is not enough for their V10 R8, the R8 V10 Challenge Extreme Edition offers 710bhp and 523lb ft of torque courtesy of a supercharger, while various brake, suspension and wheel upgrades help to keep it all on the road.
If you want to turn your R8 V10 into a STaSIS-tuned version, it can be done at APS in Brackley, and will cost you from £45k fitted, including VAT. For that you will get the following tweakery:
Engine - Eaton / Magnuson TVS 2300 supercharger running 7.5 psi of boost, independent charge cooler system to ensure consistent high power output, CNC billet alloy machined intake plenum for durability and strength, high performance STaSIS ECU remap - performance increases to 710bhp and 523lb.ft of torque
Exhaust - 3.0 inch TIG welded stainless steel, cross-flow exhaust system
Brakes - Alcon 390mm front / 355mm rear with two piece floating discs
Suspension - Lowering springs to improve handling and give a more aggressive appearance while retaining ride quality
Wheels - 9.5 x 20 inch ultra-lightweight forged aluminium front, 12 x 20 inch forged aluminium rear with high performance low profile tyres
STaSIS Audi R8 V10 Challenge Extreme Edition Performance Specification:-
| | | |
| --- | --- | --- |
|   | Factory Audi R8 V10  | STaSIS Audi R8 V10 Challenge Extreme Edition |
| Power:  | 525 bhp  | 710 bhp   |
| Torque:  | 391 lb.ft  | 523 lb.ft  |
| 0-60 mph: | 3.7 sec   | 3.1 sec   |
| Lateral accel': | 0.99 G | 1.01 G   |
| Brake decel': | 1.02 G | 1.05 G   |