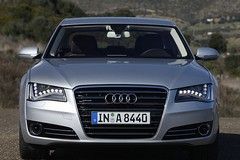 Not an S8, yesterday
Next year's Audi S8 looks likely to get a 520bhp twin-turbo V8. The 4.0-litre lump will put Ingolstadt's super-saloon on a par with similarly priced rivals from Mercedes and Jaguar in both power and cylinder count.
As is the trend with such cars, Audi is dropping the Lamborghini-derived, naturally aspirated 5.2-litre V10 motor in favour of a forced-induction V8.
There is no doubt that the new V8 will drink considerably less fuel and chuck out less CO2 than the previous V10, and the lazier torque characteristics of a turbo'd V8 is more likely to suit Audi's perceived customer base. With both the Merc S63 AMG and Jag's supercharged XJ Supersports featuring V8s, the new hot version of Audi's luxo-barge will also fall into line with its main rivals
With the S8 expected to be considerably cheaper than the S63 AMG and broadly similar to the supercharged Jag XJ (around £90k), the big Audi is likely to have a market advantage over its competitors, providing slightly more 'bang for your buck' than Stuttgart or Coventry.
Previous S8s have disappointed dynamically, combining a harsh ride with disappointing cornering characteristics. The latest Audi A8 has the ability to ride rather well, however, so the jury remains out as to whether Audi can make a big fast car ride and handle with the aplomb of its rivals.
But then big Audis have often sold well despite disappointing dynamics. So whether or not it is a key point remains to be seen.