Mini's 2nd place we get...
Jam is Jelly. Pavement is sidewalk. State school is public school and public school is private school. And a petrolhead is a gearhead. There is, it is safe to say, a small but significant cultural and linguistic divide between the US and Great Britain.
And the gap isn't just limited to the semantics of language; we love our cars in very different ways, too. There could perhaps be no better way to illustrate this than the list of '100 Greatest Cars of All Time' that's just been compiled by our colleagues across the pond at Inside Line.
It is, they tell us, the "definitive list to end all 100 Greatest Cars lists". It's been compiled to reflect a vehicle's direct contribution to American car culture, and is unashamedly biased towards enthusiast cars.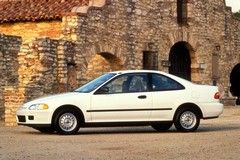 ...But 40th place for this? Really?
But it is also a fascinating insight into how our friends across the water see cars differently. For example, we more than agree with the Original BMC Mini's place at No 2 in the list, the inclusion of the 911 in the top five, and the appearance of the R32 Skyline GT-R. We can also understand the plethora of Cadillacs, US-market Fords and other American-market offerings, but there are some distinct oddities in there.
Where, for example, is the McLaren F1? How come the Buick Grand National and GNX outrank the Porsche 959? Why, in the name of all that is holy to car enthusiasts, is the 1990s Honda Civic Coupe there? Okay, so it is perhaps explained by the car's popularity as a basis for tuning, but come on - 40th place? Crikey...
Still, different strokes, as they say. You can have a pore over the full list here.
| | |
| --- | --- |
| Iconic Viper comes in at 39... | ...while the Datsun 240Z makes the top 30 |
| The Oldsmobile 88. Some cars just mean more to Americans... | ...whereas other US metal has a global reach |
| The inclusion of the Lotus Seven we understand... | ...But the presence of the Camry is beyond us |