PH2: WSB round six
Tuesday 29th May 2012
It's Miller time for Checa in America...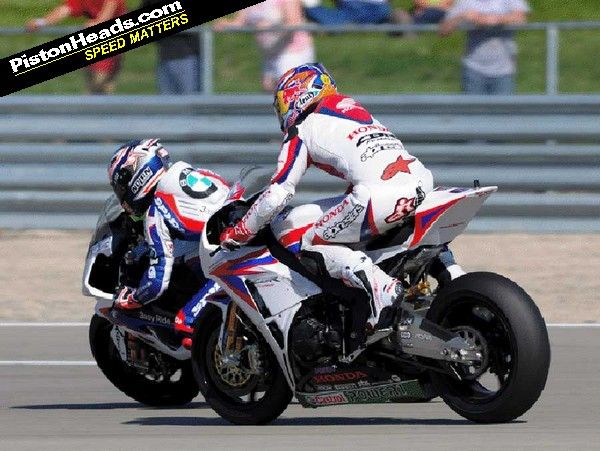 Anyone else confused by World Superbikes being on TV on a Monday evening? Well, in case you missed it, here is what happened...
Qualifying didn't go to plan for the British/Irish contingent, Eugene Laverty's Aprilia broke down on the first lap of the final round of the shootout, putting him in eighth spot, while the two Leons didn't even make the top 12. It was better news for Sykes, who continues to look red hot in qualifying after sticking his bike in third slot, while Jonathan Rea was fifth and Chaz Davies 11th.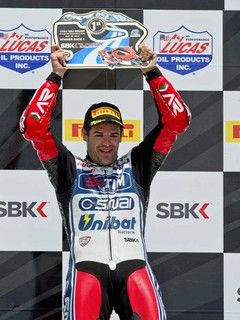 Checa on top ... again!
In race one Sykes briefly ran at the front before being overtaken by Checa, Melandri, Biaggi, Laverty and Rea. The Salt Lake City track is one of Checa's favourites and true to form the Ducati rider hit the front and never looked like relinquishing his lead despite second place rider Melandri setting some quick times in the final few laps. Melandri eventually followed Checa home with clear air between him and an entertaining battle between Biaggi and Rea that was eventually won by the Italian.
Race two and once again Sykes got off to a good start only to be reeled in after a few laps by the pack. The bad news for the WSB riders was that Checa was head of the pack... Despite losing out on top speed to Melandri's BMW, Checa's Ducati was far stronger through the corners and on lap three the Spaniard hit the front and proceeded to gap the field before a red flag due to fluid on the circuit after Aoyama's somersaulting Fireblade stopped play. The shortened 18-lap race saw Checa once again hit the front and break clear despite Melandri's best efforts. Chaz Davies showed some great form, hassling Sykes for third spot in the early laps, while Rea looked on with an air of inevitability. Then something amazing happened - Checa crashed out of the lead! Suddenly we had a race on...
With Melandri leading the way, Davies and Rea suddenly smelt the possibility of a win and hunted the Italian down within a few laps while behind Biaggi looked menacing. Sure enough, a few laps later it became a four-way battle for the lead that saw first Rea then Davies overtake Melandri. Like Checa, Rea used his superior corner speed to open up a gap while behind him Melandri used the speed of his BMW to retake Davies and catch up with leader Rea. Entering the final lap Melandri drafted past Rea on the start/finish lap and, despite sitting on his wheel for the whole of the last lap, Rea couldn't pass the Italian. Two wins for BMW by Melandri - has the S1000RR turned a corner in its development? We'll find out first hand very soon - yes, PH2 is getting a go on the race bike! Watch this space for more.
Race one:
1 Checa
2 Melandri
3 Biaggi
4 Rea
5 Laverty
Race two:
1 Melandri
2 Rea
3 Biaggi
4 Davies
5 Sykes
Championship Points:
1 Biaggi 160.5
2 Melandri 142.5
3 Sykes 142.5
4 Rea 141
5 Checa 130.5
Brit watch: (Race one, Race two)
Jonathan Rea: (4, 2)
Leon Haslam: (10, 8)
Eugene Laverty: (5, 6)
Ton Sykes: (8, 5)
Leon Camier: (13, 11)
Chaz Davies (7, 4)