Tuesday 1st November 2011
MERCEDES E-CLASS TO GO ON RADICAL DIET
1300kg E-class 'superlight' in the works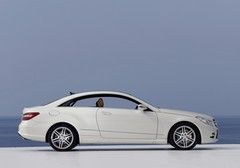 Mercedes is working on an ultra-lightweight hi-tech version of the E-class coupe that weighs just 1300kg, if German mag
Auto Bild
is to be believed.
Auto Bild reckons that Merc is working on an eco-friendly version of the E-class coupe that could shed up to 350kg over the regular car thanks to extensive use of carbon fibre - and that the new car could go on sale (alongside more conventional versions of the E-class coupe) as soon as 2015.
As for motive power, the options seem to be either a petrol-electric hybrid or possibly even fuel-cell power.
Of course there is no official word as yet on the supermini-weight E-class, but it's certainly an intriguing prospect...