Wednesday 2nd November 2011
SUBARU BRZ CONCEPT REVEALED
Wraps finally come off Subaru's mysterious coupe - about time too, we say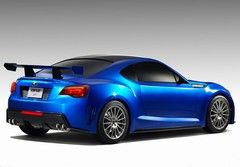 Subaru has finally put some meat on the bones of its forthcoming BRZ coupe, with the first official image of the new BRZ 'Concept' (essentially a mildly glitzed-up version of what the production car will look like).
The Long-awaited Subaru BRZ coupe - Subaru's take on the small coupe that it's co-developed with Toyota - will finally get its debut (in 'concept' form) at the LA show on 18 November, before the production car proper gets its debut at the Tokyo motor show in December.
The images do reveal a few differences between the BRZ and the Toyota FT-86, most notably simpler lines around the nose, and a boxier, chunkier rear end
As for specs, Subaru is still keeping those pretty close to its corporate chest (as it is with the interior - the LA show car won't have one), though we do know that the 'Boxer, engine, Rear-drive, Zenith' (BRZ, you see...) will get the same rear-drive, manual gearbox layout as the FT-86. But it is expected that the car will have more power than the 197bhp Toyota version.
That won't come courtesy of a turbo, however, so just how easily Subaru will get the 250-300bhp that some are predicting will be interesting to see...